Netflix Original "Squid Game" Captivates Audiences Across The Globe
New Series on 'Track to Become Most Watched Show Ever'
Bridgewater Va. – Just four days after its Netflix premiere on Sept. 17, "Squid Game" hit #1 in the U.S. Both Fortune and Vogue reported that co-CEO of Netflix Ted Sarandos said "Squid Game" is the "most popular series worldwide and on track to become [Netflix's] most watched show ever."  
Based in Seoul, Korea, "Squid Game" centers around Seong Gi-hun, a divorced father and indebted chauffeur who was invited, along with 455 other individuals, to participate in children's games to win cash money. These individuals were chosen specifically because they are in financial need. On the first day, the participants found out that there was a much bigger price to pay than merely losing out on the chance to win a couple million dollars. 
"It's just an interesting concept; all these people that need money to survive are given an opportunity to have everything paid off if they just complete the game," said Bridgewater College senior Kyle Bowman. "Then, of course, there's the twist and turn of them not knowing what the game is until they're actually in it." 
Bowman has yet to watch the show but he has done a lot of research on it. 
"I'm definitely gonna watch it. Based on what I've seen on the internet, I have to mentally prepare myself to be thinking and to take some time to get my stuff in the right headspace for it," Bowman said.
"Even as an audience untouchable by the consequences, you feel like you're always running out of time," said junior Rashed Alfarra. "That's how 'Squid Game' makes you feel – as though you were part of the game and you're gonna somehow die. In reality, you just don't want your favorite characters to die."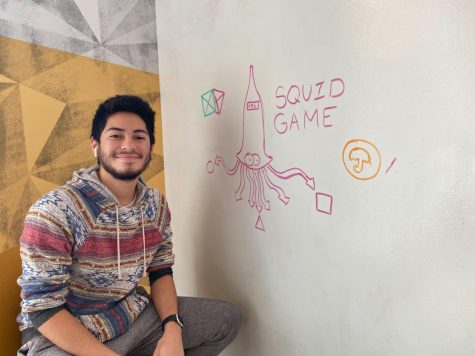 As more people watched the show, it became a trend of predictions, memes and fan reviews on numerous social media platforms such as Tik Tok, Instagram, Twitter and even Facebook.
"I feel like people like things that have deeper meaning," said first-year Manfredy Lopez. "And not only that, but being able to have your own theory and try to figure that out as the show goes on. What got me most interested was the amount of realism along with the fantasy of playing games for money. It's the perfect mix of an anime story line and live actions."
The trending challenges, mostly on Tik Tok, Instagram and Twitter, are made up of several portrayed games in the show. The two most popular ones are red light, green light and the Honeycomb games. Fans are taking further steps by imitating the way characters in "Squid Game" dress. 
Players in the show are dressed in a green outfit with white stripes, while workers are fully dressed in pink without any parts of their body showing. The workers are the ones regulating the games and are commanded to eliminate any player who fails to complete a game. 
Tik Toker and YouTube influencer Johnathan Madrid, who goes by the name TheBlondJon, reenacted several games from the show with a group of his friends. They used paintball guns, but without any actual paintballs. 
For well-known Tik Toker and YouTube prankster Bryce Hall, things turned a little fleshy as his group of friends actually used paintballs. 
"The Tonight Show" host Jimmy Fallon took to Twitter to participate in the trend by attempting to carve out the letters J and F from a honeycomb cookie. Fallon immediately broke his honeycomb cookie in half and soon was shown laying on the floor playing dead.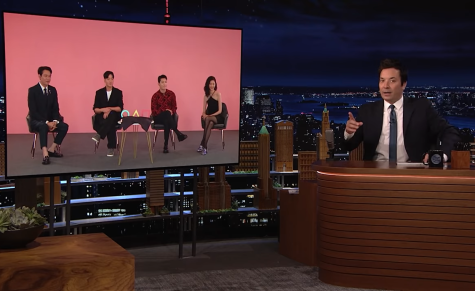 A day after Fallon's tweet, four of the "Squid Game " stars Lee Jung-jae, Park Hae-soo, Wi Ha-joon and Jung Ho-yeon appeared on "The Tonight Show" to talk about their roles, the show's rapid popularity and the origin of the six games portrayed in the show.
Upon waking up on the first day, the players were let through a staircase toward their first game. In a room that mirrors the outside world, players were expected to complete a game of red light, green light. Very quickly, they learn that the consequence of messing up in the game, such as moving on the command "red light," results in their death. 
Shocked by the surprising killing, the majority of the players voted to stop the game. After a day of struggling to get food and to support loved ones, the players came back realizing it was worth the chance to try to win the money.
"It's an immediate flip from a regular story to a story of people dying and the most shocking part of it is that they are choosing to be in this situation," said Lopez.
During a period of six days, the players are expected to participate in six games. Each day, the game intensifies and more deaths mound. For every dead player, more money is put into a glass ball displayed above the players sleeping area. The money will eventually add up to ₩45.6 billion, which is approximately $38 million.  
"It's a very entertaining show. I'm not that far into the show, but I've already been told that in the later episodes, there are really heavy themes of anticapitalism and I wanna see how that comes out," said junior Diamond Hawkins.