Pjs and Bingo Night for Bridgewater College Students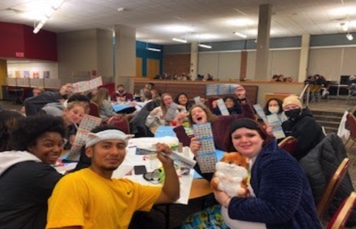 Bridgewater, Va. – Student Life hosted a pajamas and bingo night for students where they awarded free prizes to the winners on Nov. 19 in the main dining hall. 
Throughout the semester, Student Life and other groups, have hosted similar events for the student body, such as movie nights, murder mysteries and super smash bros game tournaments. 
"I love bingo night. It allows me to smile and interact with my friends and not just talk about schoolwork. Unfortunately, I didn't win any prizes; but it was fun rocking out in pajamas with my best friends," said sophmore Ameila Hotchkiss. 
Bingo night is a traditional event for students at BC that includes prizes such as school gear, bean bags and TVs. This bingo night's grand prize was an electric scooter. 
"I won the grand prize and it feels pretty good. I was feeling lucky that entire night, so I am not surprised I won the biggest prize. I stay in Stone Village, so having this electric scooter is way easier on me to travel around campus now," said sophomore Patrick Almony.