Student Art Show Opens in the Beverly Purdue Art Gallery
Bridgewater, Va.- On March 27, "Student Works 2022-23" opened in the Beverly Purdue Art Gallery, which features work made by Bridgewater students over the past year that were chosen by professors for the show.
The gallery features metal sculptures, photographs, paintings, collaborative sculptures, ceramics, drawings and videos made by students in various art classes.
On opening day, a reception was held attended by many of the artists with work on display.
"It's always fun to have work exhibited," said sophomore Jessica Lawson, who has her photography included in the gallery. "With this art show in particular, it's juried, so you can submit your own work and professors will take past work you've done and put it in the show. It's always kind of fun to get that email that your work is in the show and not know what it is until you come."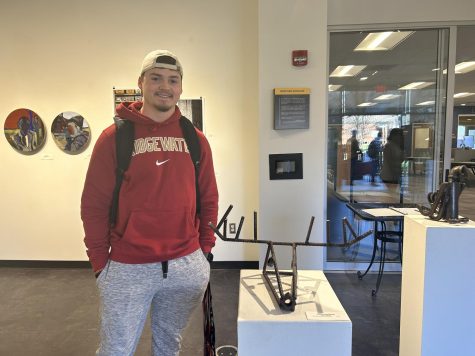 Due to the fact that professors chose student works from over the past year, some students were surprised to find that their pieces had been chosen for the show.
"I came to see my piece and also what else was in here, because I just found out about this today, and this is my first art show," said junior Timmy Ramberg, who has a metal sculpture on display. "It's pretty cool because I didn't think I would have this opportunity. I kind of just made it for my project and [Professor Hough] offered to have it in here."
Associate Professor of Art Michael Hough chose some student pieces to go in the show, but he also coordinated displaying all the art in the gallery.
"It was crazy because I spent a lot of time just trying to coordinate and to get the work here," said Hough. "It's always good to see how much amazing work our students are making. That's what I love about this show. It shows a nice wide variety of technical prowess and aesthetic."
While many students came to the gallery to see their own work displayed, many students also came to see work made by their peers or to support their friend.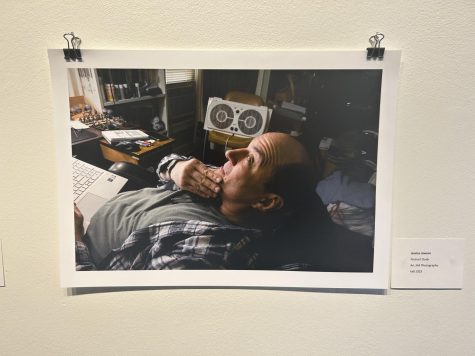 "I came to see what Timmy Ramberg did," said junior Kwinton Banks, who is Ramberg's roommate. "It's really cool to see what else is going on on campus and in the art world and see people are making really cool stuff."
"Student Works 2022-23" will be displayed in the gallery until April 12.