Coffee and Chill with the Gurus
Bridgewater, Va.- On April 14 from 3-6 p.m., the Digital Scholarship Gurus hosted a coffee and chill event in the Forrer Learning Commons portico. The event included free stickers, games, succulents and live music from Bridgewater College musicians. 
Digital Scholarship Gurus Jewelia Rodriguez, a junior, and Rachel Cubbage, a senior, organized the event.
"The event went amazing, with perfect attention to detail on everyone's part, especially Jewelia and Rachel," said sophomore Willow Allen, a Digital Scholarship Guru. "There was live music, games and even plants that lit up the FLC."
The goal of the event was to offer a relaxing atmosphere before finals week begins.
"The coffee and chill event is a way for students and faculty to de-stress, as finals are right around the corner," said Rodriguez. "An event where people can come and take a break from the semester and relax a bit with their friends."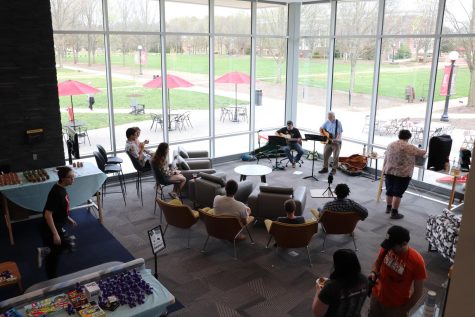 The music was live-streamed on the Digital Scholarship Guru Instagram account. Among the performers at the event was sophomore Grayson Preece, who performed alongside sophomore Ewan Benjamin and senior Zachary Rogers. 
"I had a great time practicing with Ewan and Zack, and the people who came to the event made it feel like a nice community get together," said Preece. "I enjoy the community that always surrounds music."
Information Technology Technician Brian Chandler and Professor of Biology Stephen Baron performed during the event as well. 
"The live music during the event was absolutely amazing," said Rodriguez. "Both sets of performers are very talented and had absolutely amazing voices."
Graduating Digital Scholarship Gurus like Cubbage hope that future Gurus will continue hosting similar events. 
"I hope that the Gurus continue to put on great events like the coffee and chill event," said Cubbage. "I would love to see more events like this one."