Class of 2020 to Have Virtual Commencement
Plans for Homecoming Weekend in the Works
Bridgewater, Va.- This spring's graduation ceremony will take place virtually on Saturday, May 2 at 10 a.m. on the College's YouTube and Facebook, announced President David Bushman in an email to students on April 23.
Additional celebrations are being planned for homecoming weekend, scheduled for Oct. 23-25.
"We hope to have many members of the Class of 2020 join us that weekend for fun and celebration," said Associate Vice President for Marketing and Communication Abbie Parkhurst. "These plans are being made in conjunction with class leaders, who can help guide the College on what the class most wants and will enjoy."
In Bushman's email plans were announced as hosting an event in the Forrer Learning Commons and having a "specially reserved section of Mapp Field for the Class of 2020 tailgate." 
Many community members continue to express that they want an in-person, live event.
There are two petitions circulating online advocating for a full commencement celebration. One was started in March by senior Noah Ranck; it currently has 1,257 signatures (at time of publication). The second was started by Eli Thies on April 23 following receipt of Bushman's email; in less than 12 hours, it received over 500 signatures.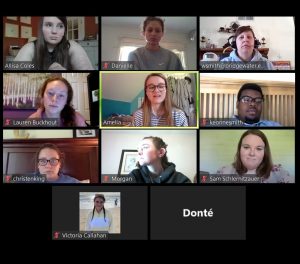 Seniors were invited to a focus group call on Wednesday, April 15. The Zoom session was hosted by class president Tori Callahan, class vice president Allisa Coles, Assistant Dean of Students Whitney Smith and Coordinator of Student Engagement and Leadership Sam Schlernitzauer.
During the call, Coles asked seniors what elements they would miss the most about not being able to hold the event in person May 2. 
"Being able to see everyone in one place with their cap and gown, all dressed up, is exciting," said senior Amelia Gunn.
"I will miss that sense of community," said senior Keon Nesmith. "It is a very united feeling."
"I think Commencement is more meaningful for my family," said senior Donté Henderson. "Senior week is for everyone who made it through with you, graduation is for that recognition part where your family gets to see you."
Parkurst said that diplomas and regalia will be mailed to graduates' homes in late May.
Editor's Update:
On Friday, April 24, 2020, at 5:54 p.m., Bushman sent the Class of 2020 an email stating that in response to the decision to not hold an in-person commencement, he had "made the wrong decision." The email included a survey to choose from two possible dates: during family weekend, Sept. 19, 2020, or in conjunction with next year's ceremony on May 1, 2021. The Class of 2021 was also invited to vote "since they will be impacted by the final decision too."