Screamin' Eagles Pep Band to Become a Marching Band
Bridgewater College Marching Band Returns after Almost 60 Years of Absence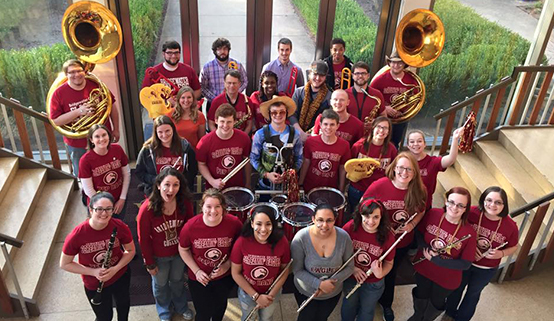 Bridgewater, Va. – Bridgewater College students can expect a brand new tradition during football season with the arrival of the Screamin' Eagles Marching Band in the fall of 2021.
 On Dec. 1, Department Chair and Professor of Music Christine Carrillo announced through email that the marching band will perform at football games and participate in Homecoming Week events.
The marching band will replace the Screamin' Eagles Pep Band, which has been a source of school spirit since 1993.
 Prior to the Pep Band, Bridgewater College had a marching band during the 1950s, according to Carrillo. Over the years, the Pep Band has ranged between 10 to 60 students and gains both prospective and current student interest.
"The size, quality, and excitement of the Pep Band have grown exponentially over the past 10 years, creating the perfect timing for this transition. There is great interest for students that want to attend a school like Bridgewater College and also continue their marching band experience," said Carrillo. 
The new marching band will feature a brass and woodwinds section, color guard, front ensemble and full drumline. According to Carrillo, the marching band is expected to reach 110 students within the next few years, including those from majors other than the music division. 
"For me, the most exciting parts of bringing a marching band is seeing the excitement in the students, the energy that the band will bring to game day and the recognition that it will bring to the college.  The added bonus is the potential growth of the music department in all of its musical ensembles," said Carrillo.
On Dec. 19 at 10 a.m. and Jan. 23 at 10 a.m., the music department will host an information session for both remote and in-person students to gain more information on the marching band.