Bridgewater College Student and Club Take a Stand Against Domestic Violence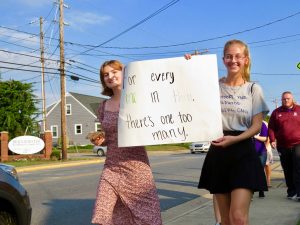 Bridgewater, Va. – Nov. 25, was the International Day for the Elimination of Violence Against Women — a cuase that Bridgewater College Student Kylee Lorio and the club Women at Work have been championing for over a year. 
On Oct. 1, 2019, Lorio, along with the club, Women at Work, served as leading figures for peers in a march to increase the awareness of domestic violence. 
Over a year later, Lorio, now a junior at BC, continues to reflect on the impacts of the march and support the mission of eliminating violence against women.  
Lorio and Women at Work strive to address domestic violence and to give those, specifically students, who face these issues a safe space to address and tackle them. 
"It's a difficult topic, but we need to stop shying away from the discussion. We cannot fully support our students if we pretend domestic violence doesn't impact our students. It does. We need to develop safe spaces and advocacy programs in response," said Lorio. 
Women at Work partnered with the organization First Step with their march. First Step concluded the march with a speech and passed out information for their resources. 
"First Step has provided students with a domestic violence specific resource off campus," said Lorio. "First Step does immense work in the Harrisonburg/Bridgewater community."