A Walk to Address Domestic Violence
Over 200 Gather to Protest
Bridgewater, Va. – On Oct. 1, more than 180 Bridgewater College students participated in a march to raise awareness for sexual and domestic violence. The march was organized by Women at Work. 
Women at Work is a student organization which focuses on raising awareness of and improving issues that affect women. The organization tries to provide opportunities for open dialogue and community engagement on campus. 
Bridgewater College students demonstrated by walking a mile while holding signs of anti-domestic violence, showing the  Bridgewater community that they care about domestic violence, and are here to support victims. Over the course of the mile, more students joined, stretching the distance of the line to over two football fields in length.
One in three women and one in four men in Virginia have experienced physical violence by a partner according to National Coalition Against Domestic Violence.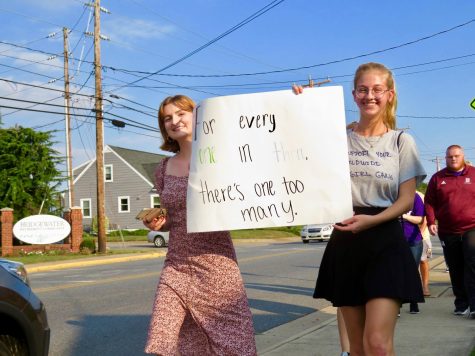 Sophomore Kylee Lorio, who is the president of Women at Work, said, "My main purpose of this event was just to show students here that they do have support,and we are here whenever you are ready to come forward with your story or to get help. We will be here."
"If even one person felt encouraged to break the silence or seek help or do their part in the fight to stop sexual and domestic violence, it was all worth it," said Ashley Lauro, a professor of English and the adviser of Women at Work.
October is Domestic Violence Awareness Month, which is why Lorio chose this month for the walk event. Women at Work is planning other activities throughout October. The club was particularly interested in the event because women are more often victims of both sexual and domestic violence, yet the event also focused on how men are also victims.
"If you are experiencing or have experienced domestic violence before, I hope you know we are here to help you," said Lorio.
Deborah Wakilongo and Alexander Naupari