Men's Soccer Team Defeats Guilford College, 2-1
The Bridgewater College Eagles Improve to 6-6-2 on The Season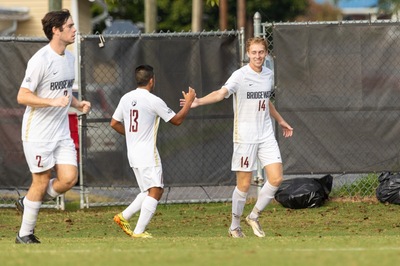 Bridgewater, Va. – The BC men's soccer team traveled three and a half hours to Greensboro, NC on Wednesday, Oct. 20. They were successful as junior forward Matthew Shelor's shot in minute 64 of the game was enough to put the Quakers away. 
Senior Sam Franklin helped get the Eagles on the board in the final seconds of the first half, when he was able to escape the goalie's attack and score with two seconds remaining. 
The Quakers first and only goal, that tied the game, came in minute 62 when sophomore Logan Eure scored just one minute and twenty seconds before Shelor's game winning goal. 
The Eagles held a 6-2 corner advantage, while the Quakers out shot the Eagles 16-11. First-year goalkeeper Charles Schweinefuss made eight in-net saves, which helped propel the Eagles to victory. 
With the win, the men's soccer team gets back to .500 on the year, while having two ties. Guildford College falls to 6-8 on the season with both teams only having two games remaining. 
Besides Franklin's successful day, the connection between Stubbs and Shelor was a special one. The duo went to Giles High School where Stubbs and Shelor helped their team to a 65-5-1 record over the span of three years, adding 124 goals combined between the two. Their connection Wednesday was the first since their high school days. 
"It was a pretty cool moment, it took me way back, but I'm glad I was able to help secure the win for our team," said Shelor. 
"We had a great connection back in high school and we were able to pull through again today. We were able to get the win on top of that and we're looking to carry this into our next game and hopefully into the playoffs," said Stubbs. 
With the men's loss to Virginia Wesleyan on Saturday, Oct. 23, they currently sit in eighth place in the ODAC conference. The Eagles need to win their matchup versus Lynchburg College on Tuesday, Oct. 26 to secure a spot in the playoffs. 
A BC loss and Hampden Sydney or Eastern Mennonite University win would mean the end of the season for the men's soccer team. A Hampden Sydney and Eastern Mennonite tie would secure a spot as well.