Video of BC Football Player Surpasses 1.4 Million Views
Bridgewater, Va.- First-year Eagles linebacker Aaron Nice posted a video on Instagram on Feb. 20 showing him deadlifting 445 pounds while surrounded by his teammates in celebration. The video was later picked up by College Football on ESPN and reposted on Facebook three days later, generating more than 1.4 million views.
"I was very excited when I saw my lift made it to ESPN," said Nice. "I am so thankful for all of my teammates who encouraged me and celebrated with me afterwards. It was an amazing experience."
With 1.4 million views, 48,000 reactions and 2,500 comments on Facebook, Nice's viral video sparked a positive reaction from the viewers. 
Many commenters commended the energy and excitement from Nice's teammates, as well as acknowledged Nice's talent, form and strength during the lift. 
Senior defensive end Preston Turner was one of the football players featured in the video. Wearing a gold tee, Turner was the one to pat Nice on the back before the lift.
"Anytime we are on the field or in the weight room, that energy and excitement is always there," said Turner. "It has always been there with this group, this brotherhood. We always support one another no matter what it is. Even if we fail, we still root each other on until success."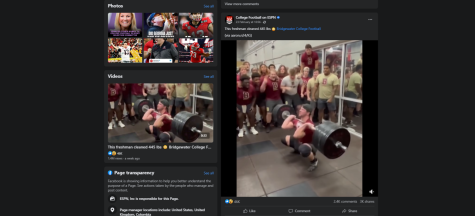 In addition to Facebook, ESPN College Football also reposted the video on Twitter. There, it has 415,000 views, 6,022 likes and 377 retweets. 
ESPN's reposting of the video featuring Bridgewater's Division III team is an atypical event, given their primary focus on covering Division I teams.
"I think it is great, because not many Division III schools get that type of notice," said first-year Tucker Harris, a defensive end for the Eagles who was also in the viral video. "For it to be us, that makes it so much better."
ESPN captioned the post with "This freshman cleaned 445 pounds," and tagged the official Bridgewater College Football Facebook and Twitter accounts respectively. Both the captions also credit Nice's Instagram account.
Nice has been playing football throughout his life, including at Stuarts Draft High School in Virginia, where he earned all-state recognition twice and Region 2B Defensive Player of the Year. 
Before starting his football career at Bridgewater, Nice lifted consistently for six or seven years. 
"I started lifting weights in fifth or sixth grade a few days a week, and started lifting much more seriously around my sophomore year of high school," said Nice. "I lift five or six times a week now. I have made lots of progress by staying consistent with my training and recovery for years on end, and not taking any shortcuts." 
Tucker explained that ESPN's recognition of the video is a testimony to Nice's work ethic in the gym. 
"Aaron being the guy he is and training the way he trains, everyone was just in awe," said Tucker. " I am proud of my guy Aaron Nice, especially someone who loves weightlifting as much as I do. I will be here to support and root him on always."
Following a strong 9-2 record during the 2022 season, the Eagles will return to the field in September.