Ronnie Howard: A Bridgewater College Football Legacy
Bridgewater, Va.- In the final game of his college career, Ronnie Howard had a record-breaking performance against Davidson College, breaking two records in Bridgewater College football history.
Howard was at the top of his game on Nov. 13, as he rushed a total of 345 yards that game with 287 of those yards rushed. According to the NCAA Statistics Database, he rushed a total of 1610 yards, the second most yards in a season at the college, and scored 13 touchdowns during his senior season.
The running back also acquired many titles throughout his career such as First Team All-ODAC in 1991 and Second Team All American and ODAC Player of the Year in 1993.
In the Spotlight
In 2011, Howard was recognized for his many accomplishments and was awarded with an induction into the Hall of Fame.
"I was actually at Myrtle Beach in a pool with my family when I got the call," said Ronnie Howard. "It was a little surreal because when you think of the hall of fame, you think of the people you see on TV. I was also a little shocked because I didn't think I was worthy to be in it."
Contributing to Good Causes
Howard is an active volunteer in the community, donating his time as a little league coach, a mentor for Big Brothers/Big Sisters and a helper at Camp Still Meadows.
"I was already doing all my volunteer work even before I was nominated into the hall of fame," said Howard. "I didn't really see any changes in doing that either because I want to contribute to my community anyways, not just because I should be from being in the hall of fame."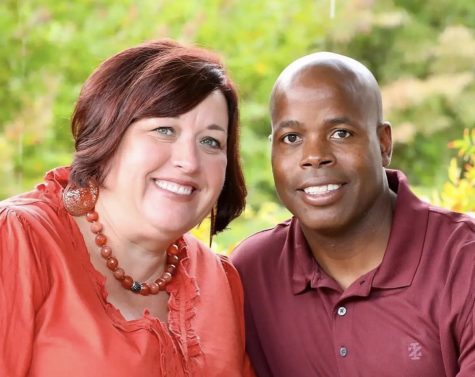 Though he was inducted into the hall of fame, Howard stayed humble and his mindset toward the game hasn't changed much.
"When I got the invitation, I didn't really feel a big change or think anything more of myself," said Howard. "I love football, so if anything I had more appreciation for the sport. I really just focus on what I did to leave an impact on the sport itself, anyone watching me play or on my community."
Words of Wisdom
Back in August, Howard came and spoke to the current football team, relaying his message to the players about attitude.
"I thought his words were very inspirational," said sophomore running back Ryker Lawter. "He came and spoke to us during pre-season camp which, in my opinion, is one of the hardest parts of the season. It really helped me think about my mindset towards the situation, which helped me see things through."
He highlighted the fact that the players should never take any part of the sport for granted because they never know what could happen next.
"There are definitely times where I get upset about a play or a certain situation, which sometimes makes me have a bad attitude towards the game," said Lawter. "Ronnie's message really made me think about how sometimes I'm not appreciating every aspect of the game. Even in times when I'm not playing as well or a coach is upset at me, I'm learning a lesson in everything I do."