Bridgewater College Climate Strike 2019
Students and Faculty Strike Out Against Climate Policies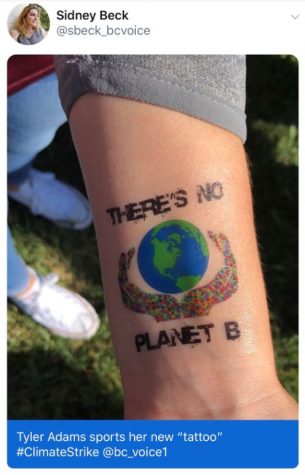 Bridgewater, VA- On Friday morning Sept. 20, students and faculty of  Bridgewater College gathered across from the Campus Police and Safety Department to participate in the worldwide Climate Strike of 2019. The Climate Strike was a political student strike that advocated for cleaner energy, lowering the emissions of fossil fuels and helping those affected by climate change.
Students and faculty held the protest off of school grounds due to it being affiliated with a political strike. Students stood at the corner of the Bridgewater Church of the Brethren, along Dinkel Ave. They held up signs that displayed statements such as "Make Earth Cool," "Act Now for Our Future" and "We are all Branches from the Same Tree." Students and faculty held their signs and chanted "No Planet B" as passing cars on Dinkel Avenue watched the Climate Strike in action.
Some drivers of cars honked as they passed by; and every time an eighteen-wheeler would come rolling through, everyone started chanting, "Honk for Climate Change."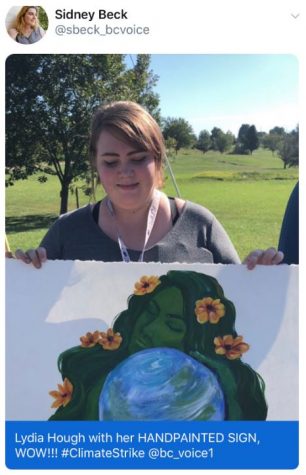 Free temporary tattoos were passed out by one of the faculty members. It displayed an earth in two hands and at the bottom read, "There's No Planet B." The turnout for the event was around fifty students and faculty members. President of Eco-Action Club Senior Lauren Buckhout said that for her, everyone coming out to inform others and show solidarity for the issue.
"Climate change is really important. I think it's so important to shed light on topics like this. Especially bringing out students and professors, and those within our community, I think this is a really awesome opportunity to get the word out," said Buckhout.