Eagles Sweep Wasps
BC Volleyball Takes Third in the ODAC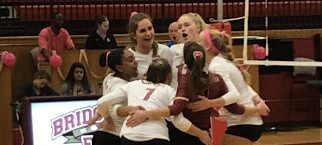 Bridgewater, Va. – On Halloween night, the Bridgewater volleyball team was on theme, spooking the Wasps of Emory & Henry in a 3-0 (25-13, 25-18, 25-13) sweep. The sweep was the 16th of the year for the Eagles, and their third win in a row. With the victory, Bridgewater improves to 23-5 overall and 9-3 in ODAC competition. The Wasps fall to 8-17 overall, and 4-8 in the ODAC. The Eagles also moved into a tie for third place with Washington & Lee.
Bridgewater was powered through the match by junior setter Jessica Bissmeyer and senior outside hitter Rachel Gaston. Bissmeyer led all players with 13 digs, and led the Eagles with two service aces. Gaston led all players with 16 kills. Middle hitters Emily Hanger and Madison Hayes both had four blocks for BC.
The game was originally scheduled for 7 p.m., but due to transportation issues with Emory & Henry, start time was pushed back to 7:30. However, the Eagles wasted no time getting started, as they jumped out to a 10-3 lead in the first set. The Wasps then staged a rally, cutting the deficit to 10-9 before a timeout. Emory & Henry would cut it to one again at 13-12, but that would be all, as the Eagles went on a 12-1 run to win the first set.
The second set was a similar story. The Eagles jumped out to a 9-3 lead, but the Wasps cut it to one at 13-12, after a 9-4 run consisting of three BC attack errors. This, however, would be as close as the Wasps could get, and the Eagles closed the set on a 12-6 run led by three kills from Rachel Gaston.
In the third set, the Wasps came out fighting and took a 4-0 lead, led by two service aces and a kill from freshman outside hitter Savannah Keese. The Eagles would not be stopped easily, and powered by four Gaston kills, they took a 7-4 lead. Putting up one last fight, Emory & Henry came back to cut the deficit to one at 10-9, thanks to two kills from sophomore outside hitter Delanie Nagy. Then, the Wasps fell apart, making seven errors and allowing two service aces from Bissmeyer. When it was all said and done, the Eagles finished the final set on a 15-4 run to win 25-13, and take the game 3-0.
The Eagles led five times, and the majority of the game. The Wasps led twice, starting the first set 1-0 and the third 4-0. There were four ties in the game.
The Eagles will hope to continue their winning streak on Saturday at 2 p.m. when they host Marymount in their last regular season game. The game will follow a competition between Eastern Mennonite University and Marymount at noon. The Eagles have already clinched an ODAC playoff spot.