The Biggest Turkey is Just in Time for Thanksgiving
The Bridgewater College Food Drive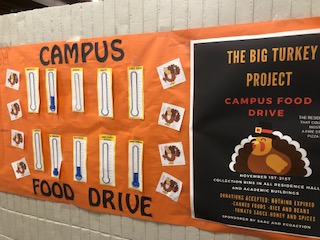 Bridgewater Va.- The Student Athletic Advisory Committee (SAAC) and Eco-Action Club are hosting the second annual Biggest Turkey competition which ends November 21.
The Biggest Turkey is a campus-wide food drive that benefits the Verona Area Food Bank. This initiative was started last year by senior John Hill in Alpha Phi Omega, and is being continued this year by SAAC and Eco-Action. 
Senior Environmental Science major and Vice President of SAAC, Victoria Hudson, said her goal is to double the 500 pounds of food which was collected last year.  Through advertising in residential and academic buildings on campus, and new incentives, she hopes to be able to donate 1,000 pounds of food this year.  
Hudson said, "The goal for this project is mainly to get campus involvement in all resident halls and athletics, it is also a way for athletics to get involved in the rest of student life."
Collection bins are located in all residential areas and the bin for the commuters can be found at the Kline Campus Center Information Desk. This competition is not only between residential areas; faculty and staff are also competing. Non-perishable foods are collected from each of the residential halls, counted, and then progress is shown on the brick wall of the KCC Lobby.
The residential area that collects the most will receive a pizza party as well as an Amazon Fire Stick for their residential area.  If commuters win, they will receive a catered lunch since they do not have a designated lounge on campus. 
Hudson said,"The biggest help students could give is encouraging other students to donate.  A can of food at Walmart is $0.47, the smallest donation can go a long way." 
"Students can donate any non-perishable good, and anything can help," said Hudson.
"Programs like this one teach people how much we take for granted," said senior Kenesha Parker, a resident advisor on campus. "Seeing how much food we actually could care less about enough to give to others is astounding.  While we have hundreds of food options, enough to discard some, the cans we put in these bins are some people's only option, and that's crazy to think about."
This event will run until November 21, and students can keep up to date with who is in the lead by the poster that is hanging on the brick wall in the KCC Lobby.