BC's First Organized Athletic Team: Baseball
Played Against Towns, with Faculty as Teammates
The cancellation of Bridgewater's baseball season due to COVID-19, is the third time in the school's history that this has happened.
"The baseball program was suspended as part of the Bridgewater College ban on intercollegiate athletic contests from 1909-1916," said Stephanie Gardner, special collections librarian in the John Kenny Forrer Learning Commons. "It was also inactive in 1918 due to WWI. It is said that the baseball field was converted to a Victory Garden during that season."
Not long after its founding in 1880, Bridgewater College formerly organized its baseball-playing students in the 1890s; however, the teams were particularly unsuccessful.
"During the 1890's [sic], Bridgewater College teams played games of baseball with Bridgewater town teams and, more times than not, were the losers," states the College's history book, "The First Hundred Years."
In addition to the town of Bridgewater, other towns the team played against included Spring Creek, Parnassus and New Hope. 
BC began playing against other schools in 1898 and "was the winner more times than not." Its frequent opponents included Augusta Military Academy, Shenandoah Collegiate Institute, Harrisonburg High School, Massanutten Military Academy, Miller School, Randolph-Macon Academy (then in Front Royal, Virginia), Shenandoah Valley Academy, Staunton Military Academy, and West Central Academy.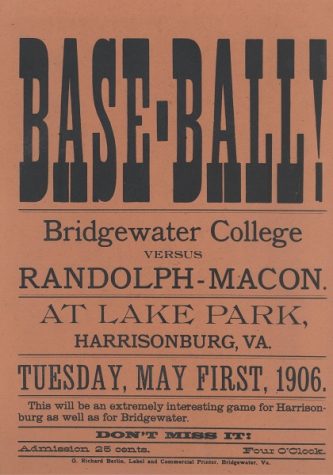 Some recognizable names from Bridgewater's 1890s teams include Justus Cline, Powell Cline (just two of the many Cline family members to have played), George Flory, Robert Strickler, Benjamin Wampler, Ernest Wampler, Andrew McKinney and Andrew Wright. Benjamin Wampler became a manager in 1902, followed by Robert Strickler in 1904.
Like many athletic teams of the time, faculty played with the students. Ottis E. Mendenhall, a professor of Latin and history, was a third baseman in 1899. In 1904, John C. Myers, a professor of mathematics, chemistry, and physics, and Weldon T. Myers, a professor of Greek and Latin, played first base and shortstop respectively. 
It was rare for teams to have a formal coach, in which case players often served as coaches or simply as captains.
Bridgewater's best early teams were the 1903, 1904, and 1906 teams. In the spring of 1903, Bridgewater won 9 of its 10 games with Frank C. Kaetzel as "the distinguished twirler." Its only loss was to Augusta Military Academy. 
That year, "they began wearing wore crimson and gold," said Gardner, who has recently digitized the archives' baseball photographs.
In 1904, with H. C. Lovegrove as its pitcher, Bridgewater won 8 of its 9 games. Its only loss was to the Miller School. In 1906 behind pitcher L. Vance Price, Bridgewater won 12 of its 15 games, with losses to Augusta Military Academy, Randolph-Macon Academy and Harrisonburg High School. Price was the team's captain in 1907 and again in 1909. 
By 1908 Bridgewater's opponents began to look a lot more familiar, with games against Virginia Military Institute, Roanoke College, Washington and Lee University and Gettysburg College.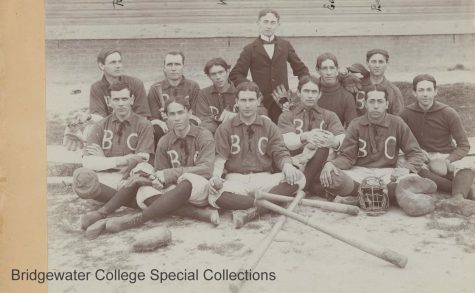 The baseball team traveled by horse-drawn wagon and carriage in the 1890s and 1900s, to distances as far as 60 miles.
The school bought a new field in 1904 between Broad Street and Dinkel Avenue, a three acre tract where Wright, Heritage, and Bowman halls stand today. A $400 purchase by Mr. and Mrs. S. G. Dinkel, it effectively replaced the previous field east of Memorial Hall, which proved to be "too small, too near classrooms, and in the way of future college buildings."
The 2019-2020 team, under the new leadership of coach Ben Spotts, was 11-4 before its season was cut short on March 11 due to COVID-19, just hours after a 14-9 victory at Washington and Lee. The team's seniors are JT Creed, Tucker Garrison, Phillip Herber, Matthew LaPrade, Brett Lysohir, Ryan Mason, Luke Paczewski and Jacob Talley.