Forced Removal of Residents from Daleville Hall and the Crimson Inn
Residence Life Implements Plan to Create Additional Quarantine Rooms On Campus
Bridgewater, Va. – On Wednesday Sep. 9, 2020, at 6:11 p.m., residents of the Crimson Inn and of Daleville Hall received an email from Residence Life notifying them of their imminent removal from their apartments and rooms.
The 65 students that this decision affects were given two options: move to a new room on campus or return home. Residents of the Crimson Inn and of Daleville Hall were not guaranteed the right of remaining with their roommates, provided with the opportunity to select a preference for the building to which they would be relocated or given the date of their relocation.
"They dropped a bomb on us," said sophomore Alison Keister.
Keister, who moved into the Crimson Inn in August, said that residents were not directly told that several apartments were already reserved as quarantine rooms, so they were not anticipating this decision.
Assistant Director of Residence Life Ricky Reiss stated in an email that the decision for this relocation is due to an "increase in COVID-19 cases in the local community," which has "highlighted the need to create as much quarantine space as we can on campus. Increasing the number of available quarantine rooms will help us manage possible cases on campus and increase our capacity to continue in-person instruction."
The email came just two days before the Friday, Sept. 11 deadline for opting out of campus residence and receiving a full residential fee refund for the semester. On Thursday morning Reiss sent a follow-up email, alerting residents of both Daleville Hall and the Crimson Inn that their opt-out deadline would be extended until Friday, Sept. 18. Students were invited to email Student Life to request the appropriate forms if they decided to do remote learning for the rest of the semester.
Junior Madison Dunbar spoke about the prominent impacts that the relocation would have on the Crimson Inn residents. These include the inconvenience of moving again, the amount of money spent on living expenses and the need to transition from apartment furnishings to dorm living.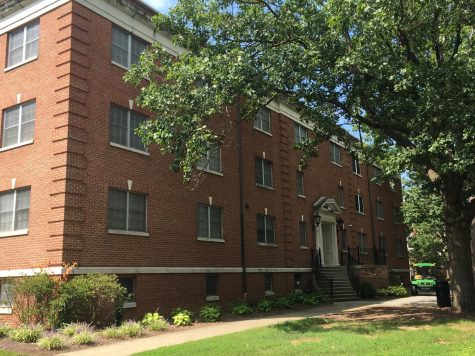 "I have to go get the proper things to live in a dorm," said Dunbar, who has a health condition that puts her at an increased risk of contracting Covid-19. "I am more likely to get Covid if I am presented with it. Going into a dorm where people could potentially have it is more risky. My immune system isn't as strong."
In an attempt to compensate for the impacts of the removal, Residence Life will be crediting $350 to each of the affected students' accounts.
Keister asserted that the whole process has "been horrible so far," because of a lack of communication from the college. This situation "reflects poorly," said Keister.
Director of Residential and Community Life Suzanne Mullins was contacted for additional information but did not respond by time of publication.
While the decision to transform the Crimson Inn and Daleville Hall into quarantine housing presents disadvantages for those students involved, the college officially recognizes that having additional quarantine rooms increases the likelihood of all students remaining on campus longer.
"By relocating the residents of Daleville Hall and the Crimson Inn, we will essentially double our quarantine and isolation rooms, a shortage of which would be a definitive factor in pivoting to all-remote instruction," said Abbie Parkhurt, associate vice president of marketing and communications. "Know that we do fully appreciate the inconvenience to affected students and the sacrifice they are making for the good of the institution."