Back to School Clubs and Orgs Fair
Bridgewater College Students Seek to Rebuild Their Extracurricular Programs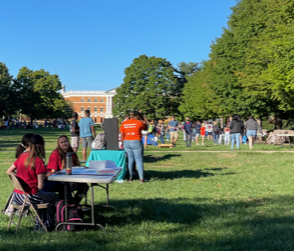 Bridgewater, Va. – Bridgewater College's back to school clubs and orgs fair, held on Sept. 16, featured between 61- 65 clubs and organizations from campus looking to recruit new members after a decline in membership resulting from the COVID-19 pandemic. 
This year's club and orgs fair was down four clubs, according to Sam Schlernitzauer, the coordinator of student engagement and leadership. These clubs dissolved after a loss of leadership and participation due to the COVID-19 pandemic. 
Some of the clubs on campus are trying to revitalize their group after a loss of participation in club activities, while also trying to reestablish club leadership and executive boards. 
"We had an exec board that was all seniors and they've graduated," said Senior Instructor of Communication Studies and Theatre and Director of Endowed Lecture Professor Jen Babcock, advisor for the Black Student Association. "Right now we're looking to rebuild so hopefully everybody being on campus will help that." 
A few clubs who were able to retain their executive boards through the COVID-19 pandemic are trying to recruit new members to continue club activities. 
"We actually did not get any leadership sign ups from last year, so we are the same officers from last year," said senior Mariah Morrsion, member of the environmental science club. "So we're trying to recruit and encourage people to join."
There were clubs in attendance that were attempting to start a new group by finding members, but many clubs there used to have high participation and are working to get their numbers of members back to where they used to be. 
"So we had a lot of numbers last year before COVID hit and then a lot of people quit and also graduated," said junior Karl Gabb, president of the Rugby club. "So we are trying to push recruitment a lot." 
Student leaders who attended the club fair are looking forward to the upcoming year, because of  the possibility of increasing the size of their club and partaking in club events and activities as they did before the COVID-19 pandemic. 
"Covid really damaged club attendance," said fifth year Delilah Prybylski, member of the Asian Student Association. "So this is really an opportunity to build back our club."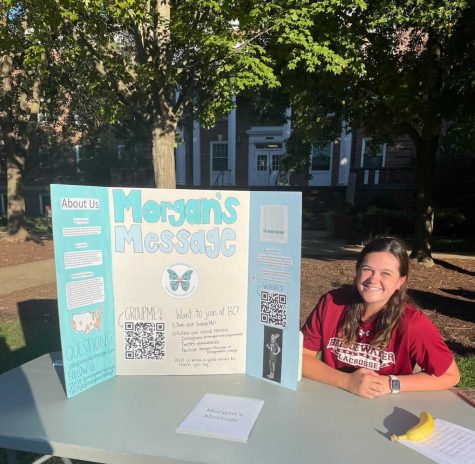 The clubs and orgs fair provided a chance for upperclassmen students to advertise their clubs and work on recruitment, but it also provided a chance for new students to see what organizations there are and to join groups that interest them. 
"It was definitely interesting to see all the different clubs and just the massive variety of the different opportunities around us," said first-year student Logan Petrie. "I've already signed up for two of them and I may look into a few others." 
While some students may be experiencing the clubs and organizations that are on Bridgewater College's campus for the first time, many upperclassmen students expressed their excitement at having clubs and activities back on campus as they were before the beginning of the COVID-19 pandemic. 
"Having clubs was really fun for me first year," said junior Bailey Morrison, a member of the Asian Student Association. "So having them back again gives people a chance to do something and it's just really fun and something to look forward to for everybody."