Academic Services Represented During Research Day
Bridgewater, Va. – Bridgewater College held a Research Marathon on Oct. 21, where many academic services set up informational tables and promoted their drop-in hours in order to encourage students to visit and utilize these resources. The Research Marathon was hosted in the Forrer Learning Commons. 
Services represented included Academic Coaching, the Math Center, the Writing Center, Career Services, Special Collections, Digital Scholarship Gurus, tutoring, Disability Services and Learning and Research Services. With the exception of the Math Center, Academic Coaching and Disability Services, all of these services are located in the FLC.
"I hope that students will become familiar with the academic support services that are available on campus," said Learning Services Librarian Taylor Baugher, who worked to market the event and also participate as part of Learning and Research Services. "With this event, we were making a push to get students into academic support spaces and talking to staff that work within the services. I hope this will help students realize that these services are helpful and incredibly approachable."
To encourage student participation, services represented at the event handed out Halloween themed rubber ducks and candy. Additionally, students could enter a drawing to win an FLC backpack and water bottle by visiting any service.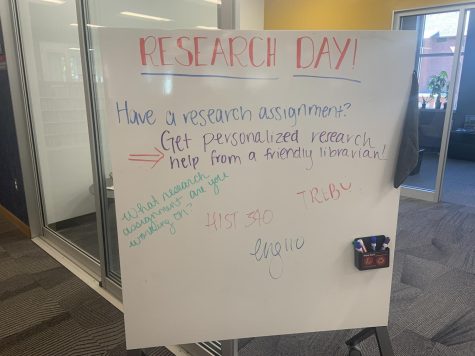 "I'm hoping that students who stop by for FLC swag and a Halloween-themed duck will realize that coming to see me about research will make their lives a little easier, as I can point them in the right direction for their assignments," said Baugher.
"It's been great," said Assistant Director of Academic Support Regina Wine-Nash, who could be found at an informational display outside the Academic Resources Suite helping students. "A lot of students have been coming by and getting some information on resources and support that are available on-campus to help them be more successful in the classroom. I think it's just a great event to help promote some of the resources we have to students who might not know how to use them."
All of the services represented are free for students to access. Many services also promoted their drop-in hours, which are often available regularly for students to stop by without the need for an appointment. In order to schedule appointments, a variety of these services use the platform Penji, which is new to the college this year. An exception is Career Services, which requires students to use the platform Handshake to sign up for events.
"Research Day highlights services for student academic success, inviting students to schedule meetings using the Penji app and/or dropping in to meet your team ready to support you," said Director of the Library Andrew Pearson. "Our motivation is that our teams all know how challenging college is, success comes best in a supportive community, and one's best can always get better."