Bridgewater College Men's Basketball Team Received Their First Loss of The Season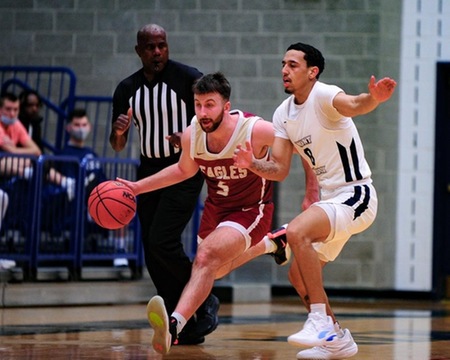 Bridgewater, Va. – The BC men's basketball team took their first loss against Mary Washington on Nov.13. The final score of the game was 80-65, and their record is now (1-1) to start out the year. 
BC's defense came out the gate slow and unprepared for Mary Washington's offensive unit and style of play. After being down by double digits in the beginning of the game, the Eagles rallied a comeback towards the end of the first half by closing the margin and only being down by five points. 
First-year Rashod Smith and senior Andy Pack combined for 22 points in the first half; while sophomore Zach Hatter led the eagles in the second half with two assists, two boards and 11 points. 
The Eagles were not able to catch Mary Washington's offense and lost 80-65. Smith is a young talent, who led the team in points with 16 of his own. 
"I felt as if we just did not get the start we wanted and some of the calls went towards the other team. But we came together and began to play our style of basketball where we dictate what happens in the game. I am looking forward to the next game."
The Eagles are back at home on Thursday, Nov. 18. The Eagles play against Penn St. Mont Alto at 7:00 p.m. This will be the first time fans have been welcomed since the 2019-2020 season.