No Such Thing as a Free Lunch?
An Inside Look at Campus Dining for Faculty and Staff
Bridgewater, Va. – Per an unwritten "Parkhurst practice" campus police are granted free access to the Kline Campus Center's dining services while all other BC faculty and staff pay to enter, just as commuters and residential students do.
While free meals are made available to all officers, there is no record as to how often they eat there.
"I've seen them in and out of the KCC, usually during dinner and late-night hours, when it was a thing," said senior Jessica Bissmeyer. "Their presence in the KCC doesn't affect me too much honestly. They're just kind of there, for lack of a better phrase."
Except for last academic year due to COVID, it was not uncommon for students to see their professors and other campus staff members eating meals together in the KCC. 
"It is my understanding that employees have paid for their lunch for a significant period of time," Vice President and Treasurer for Finance Stephen Bright said. "It has not been identified to me how far back it goes, but I think it goes far back certainly with Parkhurst and prior to that with Chartwells I believe."  
Per Parkhurst policy, all members of BC's faculty and staff are required to pay a $6 entrance fee for lunch via cash or card. 
"There were a few days that I noticed that instead of paying when I was paying, members of campus safety just walked right in and waved at the person you are supposed to pay and didn't pay," said Associate Professor of History and Political Science Bobbi Gentry. 
According to Bright, waiving the fee for Campus Police's use of the KCC is a Parkhurst "practice" and not a "rule" that has been in place for several years. 
"I see police utilizing the KCC, but not as often as faculty," said senior Nathan Douglas. "Of course I could not be present when they are interacting with students in the KCC, but from what I've seen, they don't interact with students as much as the faculty do."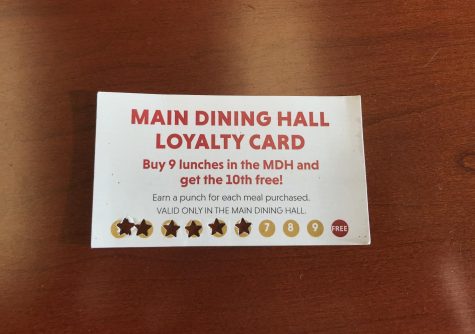 Parkhurst's new "Main Dining Hall Loyalty Card", introduced fall of 2021, waives the cardholder's tenth entrance fee after nine paid visits and is the only way faculty and staff are permitted to use the dining hall services for free. 
"The reason why that practice is in place is to make sure that the police have the opportunity to interact with students. That does not mean that they have to sit down at the table with students, that does not mean that they tell jokes or strike up a conversation, but their presence in the room makes them more accessible," Bright said. "What we have found that on many occasions students will approach them and inform them of things they need to know to keep the campus safe."
According to Gentry, any dining rules are relayed verbally to faculty and practices, such as Campus Police's free dining privileges, are "not written down anywhere." 
"It's something that we feel is a good practice to have, but it's not a policy that would be written down," said Bright. "If we determined that it wasn't beneficial then we could take that away and certainly, a right is different than that."
Campus police are accessible to students 24 hours a day, and are the ones to deal with instances of assault and abuse, among other things, that are reported, which "is not really the role of the faculty or the rest of the staff in that they aren't trained for that," said Bright.
While he frequents the KCC "once every blue moon," Chief of Police Milton Franklin supports the spontaneous dining by his officers.
"From active shooter and other training, we know that threats against the college begin in highly populated areas and the dining hall is very populated," said Franklin. "Eating in the KCC is a way that officers can give students a sense of safety there."