BCSA Still Needs Chair and Co-Chair
Many Positions Still Unfilled
Bridgewater, Va. – The Bridgewater College Student Association (BCSA) has been running for a year, but is still looking to fill positions, including chair and co-chair, while increasing club engagement. 
The applications for the new chair and co-chair were originally set to close in Nov. 2022 with the new leaders starting their positions in Jan. 2023. Since the positions were not filled, the current chair, senior Dolan Nethercutt, and co-chair, senior Amere Langley, were asked to remain in their positions until they were filled. 
According to Assistant Dean of Students Whitney Smith, applications have come in for the positions, and there have been some interviews planned, but the applications remain open on a rolling basis. 
"I feel optimistic that we will fill that position," said Director of Student Engagement and Leadership Samantha Huyard. 
BCSA has struggled to increase engagement for many aspects of the organization in the past. The committees are still not yet running as they continue to recruit committee chairs and advisors. 
Many clubs still do not send representatives to engage with BCSA at town halls. Town halls have only averaged around 15 people per meeting, according to Nethercutt. 
"So far it's a little disappointing," said Nethercutt. "Since we have roughly 30 club reps right now, I expected roughly 30 people at each town hall, which unfortunately did not happen." 
According to Smith, there is low engagement with leadership positions across campus beyond just BCSA.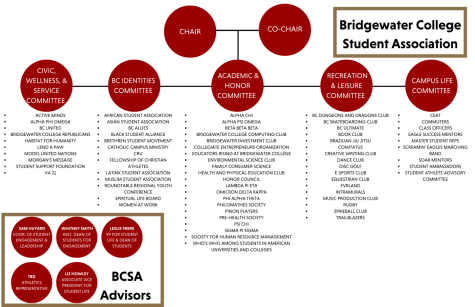 Ewan Benjamin, the BCSA representative for Comitatus, Spiritual Life Board and the Brethren Student Movement, attended all but one town hall in the 2022 fall semester. He said that he will continue attending if the meetings prove to have a positive impact on students. 
"One of the things I've struggled with is seeing how one town hall actually changes something talked about," said Benjamin. 
Of the 48 active clubs on campus, only 25 have a BCSA representative. Not all 25 representatives attend town halls. 
"We have a BCSA rep, but she's a busy person, and the rest of us are busy people, and schedules in general just don't line up for when it happens," said senior Beth Gaver, the vice president of Women at Work. "Also we're not really sure we understand how BCSA helps us or helps other clubs. That's not entirely clear" 
Students who have attended BCSA town halls are skeptical about whether a new chair and co-chair will be found. 
"They're not going to find one," said Benjamin. "The fact of the matter is that this is a tough job and not a very rewarding job and not a very free job, as in I don't think they necessarily get a lot of say in their position." 
Despite the challenges with filling positions, Huyard hopes to get all positions filled this spring so that BCSA's second year can be successful.
Note: An earlier version of this story listed Beth Gave as president of Women at Work. Story was updated Feb. 2, 2023.