Lights Out at Bridgewater
Power outage affects campus
Bridgewater, Va.- On Feb. 1, a transformer on Main Street in Bridgewater caught fire, causing an all-day power outage on campus and the surrounding areas from around 9 a.m. to 3:30 p.m.
During the morning hours, the Kline Campus Center was the only place on campus that had power, due to the building running on a generator. At 11 a.m., the Funkhouser Center also regained power for students to have access to another area. 
According to Dominion Energy, an estimated 2,429 customers were out of power after the transformer fire. Crews began assessing damage that morning and estimated that the time of restoration would be between 2:00 p.m. and 5:00 p.m. 
In addition to Bridgewater, the outage affected the rural towns of Mossy Creek, Mt. Solon and Moscow.
Bridgewater students, faculty and staff were officially notified of the power outage via an email from Vice President for Marketing and Communications Abbie Parkhurst at 9:37 a.m. on Wednesday morning.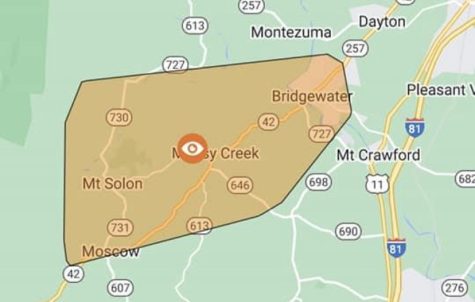 "A transformer on Main Street in town caught fire, resulting in a campus-wide power outage," said Parkhurst in her email to campus. "We do not yet have information on when power will be restored. If you are in need of power, please head to the KCC, which is powered by a generator. We will update as we receive more information."
Due to the groundbreaking of the future memorial site on Feb 1., the college was running on a modified schedule. Many professors already canceled classes for the day or made them optional. 
"My third class was optional for the anniversary," said senior Isom Whitley. "My fifth class was already not meeting, but it was not specifically for the anniversary. It was due to the condensed schedule." 
While many classes were canceled or optional prior to the power outage, the lack of power still impacted some classes that planned to meet.
"My fourth class was expected attendance, but then it was canceled because of the power outage," said Whitley. 
Power officially returned to campus around 3:30 p.m. that afternoon.