The Ultimate Travel Guide to Argentina
Bridgewater, Va.- In May 2022, I had the pleasure of traveling to Argentina for a month, enjoying a mix of leisure and teaching in one of South America's most beautiful landscapes. During the trip, I visited around ten different locations, spanning 2,500 miles of the country. 
I highly recommend visiting the country at least once in your lifetime, because there are so many places worth seeing. While planning an international trip can be daunting, I hope to provide tips and recommendations about travel in Argentina and inspire your next trip. 
Stop 1: Buenos Aires
I started the trip in the capital of Argentina: Buenos Aires. I spent just a couple of days here exploring the city by tour bus and walking around popular destinations. 
Some highlights included the magnificent views of the city skyline from high above and the tasty food to kick off my love for Argentinian cuisine. It was an incredible experience to see one of the most vibrant and bustling capital cities in the world.
I recommend that a traveler spends two days in the capital city, as there are plenty of landmarks and cuisine to discover. 
Buenos Aires is where the largest international airports are in Argentina, and you will most likely fly into the city from the United States. Because of this, it is smart to plan for Buenos Aires being the first stop of your trip. 
Stop 2: Iguazú Falls
Viewing the waterfalls of Iguazú was definitely a showstopper during the trip. Iguazú Falls is located on the border between Argentina and Brazil, and I was lucky enough to view it from both sides. I saw it from the top in Argentina, and while windy and wet, it was astonishing to see how powerful the falls are. 
Afterward, I took a day trip to Brazil and got up close and personal by taking a boat ride directly under the waterfall. It was heading towards winter in Argentina, so the water was freezing, yet so refreshing. 
Other highlights included hiking through the jungle and visiting a Brazilian bird sanctuary filled with colorful parrots, flamingos and toucans.
I highly recommend visiting Iguazú Falls for two days so that you can explore both the Argentine and Brazilian sides for a full day each. I did the trip in a single day, and while it was manageable, it would have been beneficial to spread it out over the course of two. 
Additionally, I recommend flying from Buenos Aires to the Argentine side of the falls in order to save money on flights and lodging. For an affordable price, many taxi drivers in Iguazú will offer to be your driver for the day and will even take you across the international border to see both sides of the falls. Make sure to bring plenty of snacks and water, as the jungle can get hot and there are a limited amount of opportunities to purchase food and refreshments. Hiking shoes are also a must for the jungle treks.
Stop 3: Córdoba
Córdoba was a frequent stop for me during the trip because I took many flights out of their airport. Though I only spent a couple of full days in the city, it offered great city views, good gastronomy and a challenge for my Spanish due to the difficulty of the accent.
If you plan to travel to different parts of the country, you will most certainly connect through Córdoba a few times. Argentina is a massive country, so flying is a must in order to get from place to place.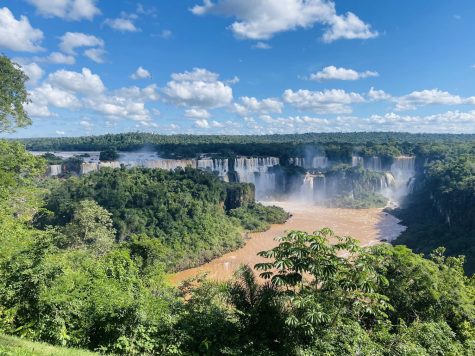 I recommend scoping out a hotel near the airport with a shuttle service to limit the stress of transportation. Additionally, I recommend planning your rides ahead of time, as taxis can be hard to come by at peak hours. 
Stop 4: La Rioja
La Rioja was the home base of my trip. I stayed with a friend and his family and went to a local school to teach English lessons.
Along the way, I met some great friends and felt like part of the family. I ate some incredible food including empanadas, locro, and canisitas.
For travelers who want a more authentic experience of the culture and day-to-day life in Argentina, La Rioja is a great place to visit. It is a bit isolated from other landmarks and big cities, so I would recommend planning a two-day stay.
Stop 5: Talampaya
While in La Rioja, I took a day trip to Talampaya, a National Park located two hours from the city. Here, I went on a bus and hiking tour of the desert and saw ancient petroglyphs carved into the boulders, wild guanacos and amazing views of the arid landscape. 
Native to South America, guanacos are an animal similar to llamas and alpacas.
Talampaya felt similar to the Grand Canyon in terms of the colors and the climate. 
If you decide to visit La Rioja, then Talampaya National Park is a must-see place. For travelers with limited time, I would recommend visiting other landmarks over this one, but it is still a gorgeous part of Argentina and shows the vast diversity of landscapes.
Stop 6: El Calafate
El Calafate was my home base for several excursions, including to the Perito Moreno Glacier and El Chaltén. The town itself has some incredible food and a great atmosphere. 
The architecture is Swiss inspired, and I loved seeing the stray huskies and German shepherds that are taken well care of by the locals. I experienced some unbelievable sunrises, as daylight only ranged from around 9:30 a.m. to 4:30 p.m. 
I highly recommend staying in El Calafate if you want to visit the glacier or El Chaltén, because you will have access to a small town with restaurants, tour companies and advice from locals. Additionally, I recommend that travelers stay in the heart of the town, as the outskirts are a long, cold walk away. 
Stop 7: Perito Moreno Glacier
Out of every view, this one was by far the most spectacular. The Perito Moreno Glacier was astounding to visit, and I was able to take a boat directly to its foot, as well as hike around it, admiring the views.
The glacier itself is massive; larger than the surface area of Buenos Aires. It was vibrantly blue in person and the most beautiful landmark I have ever seen.
If you decide to go anywhere in Argentina, the Perito Moreno Glacier should be the place to choose. I recommend booking a tour from a travel agency in El Calafate in advance, and bringing plenty of warm clothes. 
Once again, I recommend bringing hiking shoes and plenty of snacks and water for the long bus ride.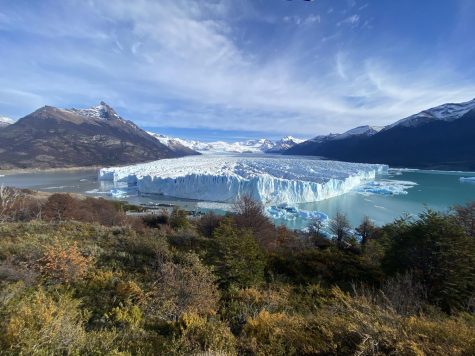 For additional travel in Patagonia, I recommend visiting Ushuaia, which is the southernmost town and known to be the gateway to Antarctica. 
Stop 8: El Chaltén
This small mountain town is known as the hiking capital of Argentina due to its incredible Fitz Roy peak. Experts say that the hike is just as challenging as Mount Everest and takes weeks, so I just viewed it from afar.
In person, the mountains are massive, reaching more than 10,000 feet tall at its peak. I enjoyed a short hike at an incredible viewpoint overlooking the city and the mountain, as well as a visit to an icy waterfall deep in the forest. 
In terms of wildlife, there were wild flamingos wading in Lake Argentina and plenty of guanacos. 
I did a one-day tour to El Chaltén, but I would recommend staying there overnight to enjoy all it has to offer. It was a decent bus ride away from El Calafate, so extending the trip over two days would be much more manageable. 
For hikers, up to a week in El Chaltén is necessary to discover all it has to offer. 
Stop 9: Bariloche
To end off the trip, I took a flight to Bariloche, a chilly mountain town in the south of the country. The city itself has beautiful Swiss architecture with a vibrant community, as well as plenty of restaurants and shops. 
Despite this, the true beauty lies in the nature. I took a bus tour through the city and to a nearby mountain called Llao Llao. 
Out of all the mountains I saw in Argentina, Llao Llao was the most stunning due to its snowy peaks overlooking a massive lake and forest. I was only able to spend a few short days in Bariloche, but there is enough beauty to spend an entire week in the town.
I highly recommend visiting Bariloche on your trip to Argentina, because there is nowhere else like it in South America.
Overall, there are so many treasures to be discovered in Argentina. Similar to how the United States has climates ranging from Alaska to Florida, there is such a diverse amount of landscapes and biomes in Argentina. 
For lovers of big cities, incredible nature and a one-in-a-million culture, Argentina is the destination for you.