Rediscovering Jerusalem in Bridgewater College
Bridgewater, Va.- As an international student, I left my birthplace of Jerusalem, Palestine in search of new experiences and opportunities. However, I never imagined that I would find echoes of my beloved city within the halls of Bridgewater College.
One day during my freshman year, I stumbled upon the choir practicing in the college's Carter Center. Their beautiful chords immediately captivated my attention, taking me back to the Franciscan chants I had heard on the streets of Jerusalem. 
I eagerly joined the choir, and it quickly became an integral part of my time at Bridgewater College.
Under the guidance of Director of Choral Music Ryan Keebaugh, I learned the values of cooperation, harmony and collaboration. 
The music we sang cleansed my mind of the stresses of my studies and work, and I found myself transported back to the winding alleyways of my hometown. John Rutter's "Requiem," in particular, spoke to me with its hauntingly beautiful rendition of "Agnus Dei."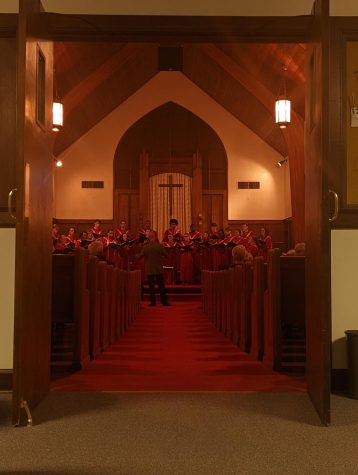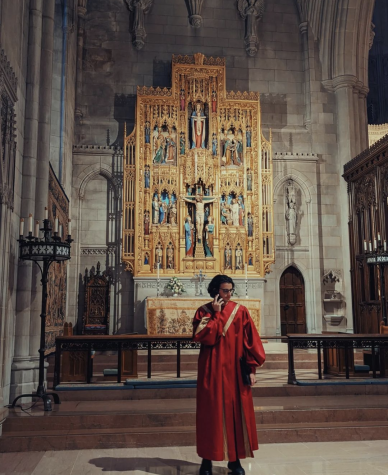 Coming from one of the world's oldest cities, I was accustomed to being surrounded by rich history and culture. I was surprised and delighted to discover that Bridgewater College, founded in the 1880s, had its own deep history and unique culture to explore.
For example, as a Digital Scholarship Guru, I delved into the college's archives and uncovered stories that had previously been unknown, including a fascinating tale about haunted dolls that reside in the Carter Center.
Jerusalem is a city steeped in history, culture and spirituality. It is considered a holy city by three of the world's major religions: Judaism, Christianity and Islam. 
My birthplace has a rich heritage, dating back thousands of years, and is renowned for its ancient architecture, vibrant markets and diverse cuisine.
Despite its tumultuous history and ongoing conflicts, Jerusalem remains a beacon of hope and a symbol of unity for people from all walks of life. 
Through my studies and work, I discovered many microcosms within Bridgewater College that evoked the familiar essence of my birthplace. Despite being oceans away from Jerusalem, I found myself rediscovering it within the welcoming embrace of Bridgewater College.
Note: An earlier version of this story listed the National Cathedral as being located in Jerusalem. Story was updated Apr. 11, 2023.