Bridgewater College Men's Soccer Team Falls to Lynchburg College in Season Finale
The Eagles Miss Out on The Playoffs in 6-1 Defeat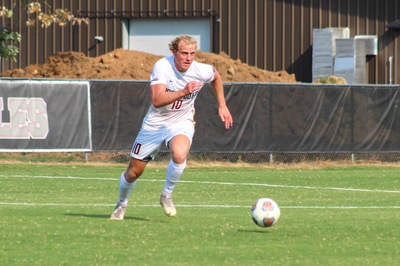 Bridgewater, Va. – The Bridgewater College men's soccer team ended their season on Tuesday, Oct. 26, after their defeat by the No. 2 seed Lynchburg College. 
The Eagles quickly fell behind (2-0) within the first 30 minutes of the game. The Hornets added another goal in minute 36 to go up 3-0 heading into halftime. 
The Eagle's second half game plan was crushed after the Hornets were able to put up their fourth goal, two minutes into the second half. The men were staring at a 4-0 deficit with just over 40 minutes to go in the game. 
The game fell even further out of reach for the Eagles when the Hornets added their fifth goal of the game. BC finally got on the board when a pass from sophomore midfielder Eric Ramirez found the foot of junior midfielder Josh Giliam in minute 67 of the game. Less than two minutes later, the Hornets added their sixth and final goal of the contest, going up 6-1 with 22 minutes remaining. 
Unfortunately, the damage had been done, and the Eagles were forced to slowly watch their season come to an end. Lynchburg College held a 29-7 shot advantage over the Eagles, and 5-1 corner kick advantage as well. 
First-year goalie Charles Schweinefuss had seven in-net saves, but it was not enough in the long run to get the job done. BC finished their season 6-8-2, placing them ninth in ODAC play. Lynchburg finished their season 12-4-1, placing them second in the ODAC conference. 
In order for the Eagles to have made the playoffs, they needed to defeat Lynchburg, or a loss with a tie between Eastern Mennonite University and Hampden Sydney College would have secured a spot in the playoffs for the men. 
With the men's loss and Hampden Sydney's win over EMU, Hampden Sydney was able to squeeze into the eighth and final playoff spot with the exact same record as BC. The Eagles and Tigers of Hampden Sydney College tied during their matchup on Sept, 16. 
"It was a pretty tough way to end the season knowing how close we were to the playoffs. We had our ups and downs as a team but we learned a lot and have a lot we need to improve on. I'm just looking forward to getting healthy and focus on returning to the field," said sophomore health and exercise science major, Vincent Marra. 
Marra was a starter for the Eagles at midfield for the first eight games of the season before he injured his hamstring during the men's game versus Shenandoah. Marra's injury had him benched for the remaining eight games where the team went 2-4-2. The Eagles started the season 4-4 before his injury that saw the team ride a three game win streak after starting the season 0-3.