Eagles Equestrian Team Conquers Change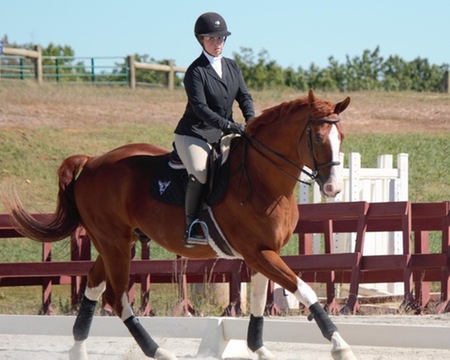 Bridgewater, Va. – A year has passed since the devastating proposal to sell the Equestrian Center and the program's drastic reduction, but the riding team springs back to action even in the face of change.
In the fall of 2020, an SRA report recommended that the BCEC be restructured because of deficits in funding. The recommendations included the sale of its property and a program reduction from up to 80 participants to a 6-member National Collegiate Equestrian Association women's team. The recommendations were taken despite initial backlash.
Bridgewater's very first NCEA event on Sept. 6 ended in a 5-3 loss after a hard fight against Lynchburg University.
"Actually, it went really well for our first event," reflects team captain Emily Nuthall, a junior from Deale, Maryland. "It was definitely a great learning experience."
"It's our first year," says Nuthall, "So the only thing we can do is try our best work hard at what we're doing and, you know, hope to get good outcomes and good points."
Facing the new competition format as a direct result of the SRA recommendations was "nerve wracking," says Nuthall, but the changes have also had their positives. A smaller team now gets to interact more and "work a lot harder" with more practice time.
According to Nuthall, the team practices five days a week. Each day is dedicated to different exercises including fence work and jumping. Two weeks prior to a meet, they get the test for the event and set up the course to get familiar with it. Because they use other schools' horses at meets, the members also rotate horses to get diverse riding experiences. 
After growing more familiar with the rules and regulations at its first meet, the team went into its next events with a lot more preparedness, according to Nuthall. The doubleheader took place in Amherst, Virginia, on Nov. 12 and 13. While the initial score was a victory for the Eagles against Sweet Briar, winning 5-3, retroactive changes lessened the score, stealing their first win. 
Another positive of joining the NCEA has been increased exposure for the equestrian team, according to Nuthall, but she says she still wishes for a closer relationship with the BC community. Being a first year competitor, BC won't get to host any meets this year.
"It's hard because we're off campus," says Nuthall, "I do kind of wish that we could host just so we could have that opportunity to be like, 'hey, like, you know, we have a new team, like come out and support our first meet.'" 
The Equestrian team's next scheduled events are in January in South Carolina and then Georgia followed by March road trip to College Station, Texas.
Author Katerina Dronov is a sophomore history major. She wrote this story for a sports writing assignment in COMM 255W Introduction to News Writing.