Bridgewater College Women's Volleyball Looks to Offseason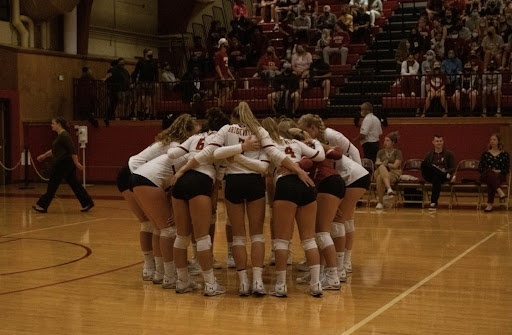 Bridgewater, Va. – The Bridgewater College volleyball team's 2021 fall season ended on Nov. 5 against Washington and Lee in the ODAC semifinals, but they aren't letting the defeat take away from the season.
The season did not go as predicted by the coaching staff for the Eagles. The team was aiming to be top of the ODAC by the end of the season but fell short losing in the semifinals.
"There are things left on the table that we didn't quite get to this season," said assistant volleyball coach Tom Doherty.
There are standards that are set in the gym by the coaching staff for the team. As a coaching staff, Doherty wants to be "very clear" about what is expected of the players from the time the season starts until the moment it ends.
With a small roster size this season, Doherty feels as if he was "a little bit laxed" in the standards he put in place with head coach Erin Harris, which "might have had an impact on the season."
According to the roster on Bridgewater Eagles, the team was made up of just 13 women, seven of which were underclassmen and had not experienced a full regular season of collegiate volleyball. The coaching staff is expecting improvement in the offseason as the team shifts their focus from gameplay to open gyms and the weight room. 
There are 11 women that are returning for the Eagles, and they are looking to have a strong offseason. There are two players that are looking to make a big impact on the team and improve themselves as well.
Ann-Marie Johnson, a junior middle hitter for the Eagles, made an impact this season coming off an ankle injury that didn't allow her to play last season. She was 3rd overall in the ODAC in hitting percentage. Making the team's overall hitting percentage .166% for this season. 
"It helps to have a team that wants to improve," said Ann-Marie Johnson
The team has plans to work in the weight room; with the help of their strength and conditioning coach Devin Young, they will be working on getting stronger and faster to increase their performance on the court.
"Not only do I want to give 110%, but so does the rest of the team," Johnson said.
Grace Hayes, a junior setter for the Eagles also made an impact on the team breaking 2000 career assists this season. 
Grace's goal for the offseason is to try to become 1% better every time she steps in the gym, so she can break 3000 assists by the end of her career. 
"I'm really looking forward to them figuring out what they want for next year," said Doherty.
Author Meghan Bailey is a junior health and exercise science major. She wrote this story for a sports writing assignment in COMM 255W Introduction to News Writing.