Eagles Fall to Washington and Lee on the Road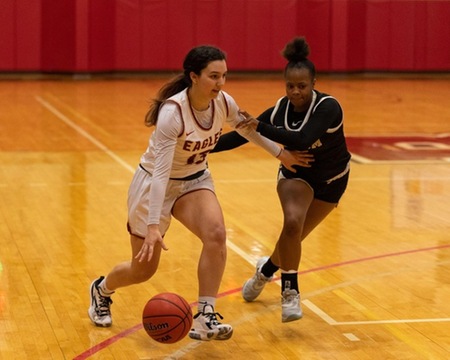 Bridgewater, Va.- On Feb. 9, the Bridgewater College women's basketball team traveled to Washington and Lee University. The Generals overpowered the Eagles on both sides of the ball. The final score of the game was 81-39. 
The Eagles scored the first points of the game, but the Generals went on a 17-3 run. Bridgewater's offense got off to a very slow start by only going four for 15 from the field. 
Bridgewater did not back down. The Eagles managed to make a comeback in the first quarter and cut the General's lead to only eight points. 
At the four minute mark in the second quarter, sophomore forward Jaden Alsberry and senior forward Erika Nettles helped the Eagles go on a 6-0 run against the Generals, which cut the lead to only five points. 
Washington and Lee managed to take control of the game again by increasing their lead to 13 points going into halftime. 
The entire second half was just pure domination by the Washington and Lee Generals. The Eagles went seven for 32 in the entire second half. 
Sophomore guard Julia Williams finished with a game high of 11 points. Alsberry put up four points and a game high of ten rebounds. 
The Generals were 50% from the field and 38% from long range. The Eagle defense got off to slow starts in both halves.  
"This has been a very challenging and sad time for our school and community at Bridgewater College," said senior forward Diamond Huskey. "We are playing for Bridgewater and for the entire Bridgewater community. I love this team, win or lose." 
BC falls to 8-12 and 6-8 in ODAC play.