BC Baseball Season Preview
What to Expect from your Eagles in 2023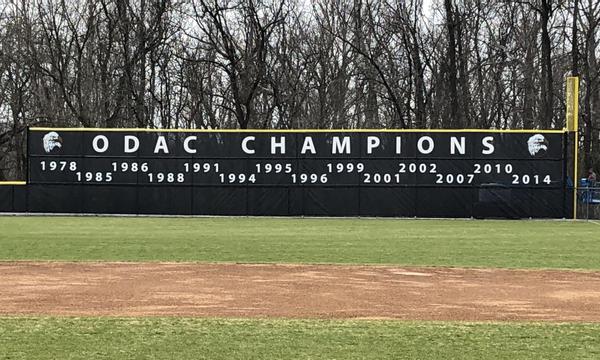 Bridgewater, Va.- The Bridgewater College baseball season has begun, and the Eagles, headed by Coach Ben Spotts, are getting ready to begin a new campaign. The Eagles were picked to finish fifth in the ODAC as the preseason polls were announced on Feb 8. 
Bridgewater baseball, which has more than 40 players this season and a tough schedule packed full of doubleheaders, will have to work hard to win their spot in the ODACs. The Eagles went 26-17 on the year during their 2022 campaign.
"We have demonstrated that trusting the process and creating a culture of faith in our game plans can work," said senior Jeffrey Snider. "We have seen it happen, so I hope the young men can come in and grasp what is required and what is needed to be successful."
The team has relied heavily on its veteran lineup over the past few seasons, and that will continue, according to Spotts.
"We have become a veteran group, especially position player-wise," said Spotts. "We get fifth-years that include Jaret Biesecker, Brett Tharpe and Timmy Hobson, and that is huge in the maturity of our program. Our team has been there and done that and has seen what it takes to win in the ODAC."
The two top-four finishes in the ODAC playoffs over the past two seasons were made possible by players including junior pitcher Reid Long, who earned a spot on the first team and ODAC pitcher of the year, along with fifth-year versatile player Brett Tharp, who earned second team honors. 
"Long is one of the impactful arms coming back. He was ODAC pitcher of the year last year and really spent all summer perfecting his craft," said Spotts. "Tharpe is another who comes to mind, as he goes out there every time and gives you a chance. It is a lot of the same; he is a big moment player, we trust him in any given situation in the backend of games and he has been our steady closer."
The squad has depended on their camaraderie and their supportive team first philosophy looking back on historic seasons during COVID-19.
"Roles change from year to year. It is a process, and you have to trust the process." said Spotts "It is not just one day, but it's a full 4-year process, and man, if you love this college and have good leadership skills, which we do, you can commit yourself to the group, the team and the culture. That's why you have that cohesiveness on the field."
Spotts has instilled in the players that the culture must remain intact in order for them to trust and believe in the process.
"The big thing with culture is buying in," said Biesecker. "We have accepted that you have to believe in it and the core has to acknowledge it may not always make sense, but through the hardships, it's going to make you better coming out of it, and you eventually learn through experiences."
The 2023 season will be Spott's fourth season as head coach for the Eagles, after previously serving as an assistant coach for the team for 14 seasons. He has been a winner of five ODAC championships and made six trips to NCAA regional play during his tenure as an assistant coach for the Eagles.
"I am just excited. We were one of the final four teams last year in ODAC play. I'm just excited to have these guys who always work hard and just compete," said Spotts. "I feel very blessed to have people that share the same passion and vision as me and let's see where this thing goes.
The roster must reflect the culture from top to bottom."
The Eagles were able to boost their total victories from 14 to 26, capping off their fantastic 2022 season. Since winning the ODAC championship with 36 victories in 2014, this was their most successful season.
"I think at first the culture was just getting accepted by your team," said first-year Isaac Sumpter. "Now it has turned into 'this is the way to do it,' and you can tell that Coach infuses certain things into the older guy's mindset, and they deliver that message well and share the same drive as the younger guys."
Spotts regularly instills his players with a mantra. The Eagles were able to increase their on-base percentage from .363 to .395 because of this straightforward but impactful approach.
"Focus on today, bring my best work ethic and effort today and tomorrow will take care of itself," said Spotts.
The Eagles' non-conference schedule started on Feb. 11 and 12 as they faced off against N.C. Wesleyan at the Bridgewater Baseball Field. The Battling Bishops claimed both victories in the hard fought weekend schedule.
"I think this could be the year for us," said Snider. "We need to accomplish the first goal of making the playoffs and give ourselves a shot at it."