Getting the Conversation Started: Talking About Mental Health
Students Spread Awareness About Mental Health On BC's Campus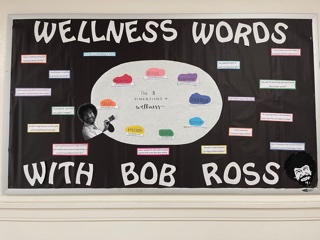 Bridgewater, Va. – Bridgewater College's Active Minds, BC United, Morgan's Message and other campus services all focus on the mental, physical and emotional health of BC students. These clubs and services strive to inform students about available health resources on and off-campus.
September is National Suicide Prevention Month. Throughout the month, many different campus resources are advocating for individuals to help break the stigma surrounding mental health so people feel comfortable reaching out for help. BC's campus organizations and on-campus resources are regularly informing students and staff of the importance of self-care to preserve their mental health. 
"When people say take care of yourself, I think of self-care like a face mask, getting enough sleep, eating healthy, talking to your friends, taking a hot shower and just doing things that you like," said junior SOAR mentor Natasha Tadlock. "The first things to come to mind are physical health related things, I don't really think of mental health."
There are different resources for students to use regardless of what they are struggling with. On-campus, non-mandated reporters are people who do not have to report what you tell them. Non-mandated reporters at BC include counseling services — located in the Student Life suite —  health services and the college chaplain, Robbie Miller. 
 Mandated reporters include: Title IX coordinators, athletic staff and coaches, RAs, SOAR mentors, professors and campus police. All BC students and staff are able to fill out an anonymous BC Cares report for a friend, classmate, neighbor, teammate, etc., that they are concerned about. 
Off-campus resources include: National Suicide Prevention Hotline (1-800-273-8255), Rockingham/Harrisonburg Services Board (540-434-1941), activeminds.org, Crisis Text Hotline (text CONNECT to 741741) and Sentara Hospital.
"Active Minds worked in connection with BC United and did a mini tabling in the KCC on Sept. 8, and we had a National Suicide Prevention Week poster up and students could write on a slip of paper what they would say as a message of hope to a person that is struggling with their mental health and put it on the poster," said senior Lexia Werner, president of Active Minds.
In lieu of National Suicide Prevention Month, BC's field hockey and women's lacrosse teams are doing 'blue out' games where everyone wears blue in support of Morgan's Message as a reminder to normalize talking about mental health, especially when it comes to student athletes.
"It's okay to get help and ask for help if you need it," said junior Allie Burris from the women's lacrosse team. "Sometimes it can get overwhelming and that is perfectly normal, and that is why it is important to bring it up and talk about how it's okay to feel this way."
"I know what it feels like to struggle, and I want to be a shoulder for someone who is also struggling," said junior Meghan Bailey from the field hockey team. "We're always expected to have this mental toughness, but it's okay to be an athlete and struggle with mental health."
"It's really overlooked for athletes a lot of the time. Physical well-being is not equal to mental well-being on any platform, so it's nice to have an opportunity to equalize it and normalize the conversation," said junior Meredyth Rankin from the field hockey and track and field teams.  
The student leaders left advice and reminders for other students on how to take care of their mental health during the school year, and especially during the month of September.
Tadlock mentioned that she thinks it is a good idea to reassure people that they are not alone and they have someone they can talk to.
"Validate your feelings first and know that your feelings are accepted and appreciate that you did that," said Werner. "Do something that gives you an opportunity for hope, try to see your feelings from a different perspective. Make sure that you give yourself some credit."
"It's okay to feel this way. It may seem like you are the only person feeling this way, but you probably aren't," explained Burris. "It's okay, and it's going to be okay."